A very interesting event. If you're interested, please register.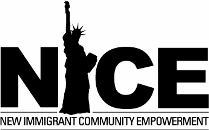 ---
 New Immigrant Community Empowerment (NICE) &
The Community Development Project at the Urban Justice Center present:
Dreams and Schemes in Queens, New York:
Immigrant Struggles to Find Work and Get Status in the Face of Consumer Fraud
A report on fraudulent, predatory and substandard practices in employment
agencies and immigration services targeting immigrant workers and consumers.
When: Thursday, October 11th, 9:30am to 12noon
Where: CUNY's Murphy Institute, 25 W 43rd St.18th floor
What: Report Release & Panel Discussion
 
NICE will present its research findings & policy recommendations,   followed by a panel discussion with:    
Jason Abrams, Abrams & Abrams LLP, AILA National Consumer Protection Committee

Laura Huizar, Latino Justice PRLDEF, Equal Justice Works Fellow sponsored by Kramer Levin Naftalis & Frankel LLP

Luna Ranjit, Adhikaar for Human Rights and Social Justice

Careen Shannon, Fragomen, Del Rey, Bernsen & Loewy, Cardozo Law School
Moderated by:
Deyanira del Rio NEDAP
With remarks from:


Daniel Dromm, Councilmember 25th District,
Julissa Ferreras, Councilmember 21st District
Matilde Roman, Mayor's Office of Immigrant Affairs (Comissioner Fatima Shama)
Assistant Attorney
General Roberto Lebron
, Office of NYS Attorney General Eric T. Schneiderman
"I was very demoralized. I started crying because my hope had been killed   by this fraud.  We had to pay $7,000 and we had already paid $5,000.   We thought that the faster we paid, the faster they would work on our papers,   but it was not like that." From: Dreams and Schemes
---
---
New Immigrant Community Empowerment (NICE)
37-41 77th Street
Jackson Heights, New York 11372
US